Image via CrunchBase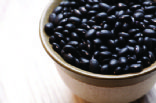 Black Bean 'Hummus'


Hummus goes South of the Border! I spread this on bread or tortillas withvegetables for a quick sandwich, I dip carrots and celery into it, and I eat it with tortilla chipsfor a snack.

INGREDIENTS
3 1/2 cups black beans
1 small onion, diced
1/2 green pepper, diced
3 cloves garlic, minced
2 T ground cumin
1 1/2 t olive oil
2 T chopped fresh cilantro
1/4 c vegetable broth


DIRECTIONS
Drain and rinse black beans if using canned.
Place olive oil in skillet set over medium-high heat. Add onions, peppers, and garlic and saute about three minutes, until vegetables are fragrant and starting to brown slightly. Add cumin, stir well, reduce heat to medium and cook another two minutes.
Place beans in food processor and pulse seveal times. Add vegetable mixture and pulse a few more times. Add vegetable broth in small batches to thin the dip to the desired consistency. Garlish with chopped cilantro. Serve immediately or store in refrigerator for up to 10 days.

Makes eight 1/2-cup servings!

Number of Servings: 8

Recipe submitted by SparkPeople user SP_STEPF.
The Springboro Voice
Springboro, Ohio
45066
Operated by TheVoiceofMiamiValley.com
Serving CarlisleDaily.com, TheFranklinVoice.com, and TheSpringboroVoice.com The articles and posts on this site do not necessarily reflect the opinions or views of the management and owner of The Voice of
Miami Valley
. Letters and Guests are welcome to submit to The Voice and all other sites managed by The Voice of Miami Valley. All submissions must be published with signatures. No unsigned submissions will be published. Submissions should be emailed to owner@thevoiceofmiamivalley.com Thank you for your readership!